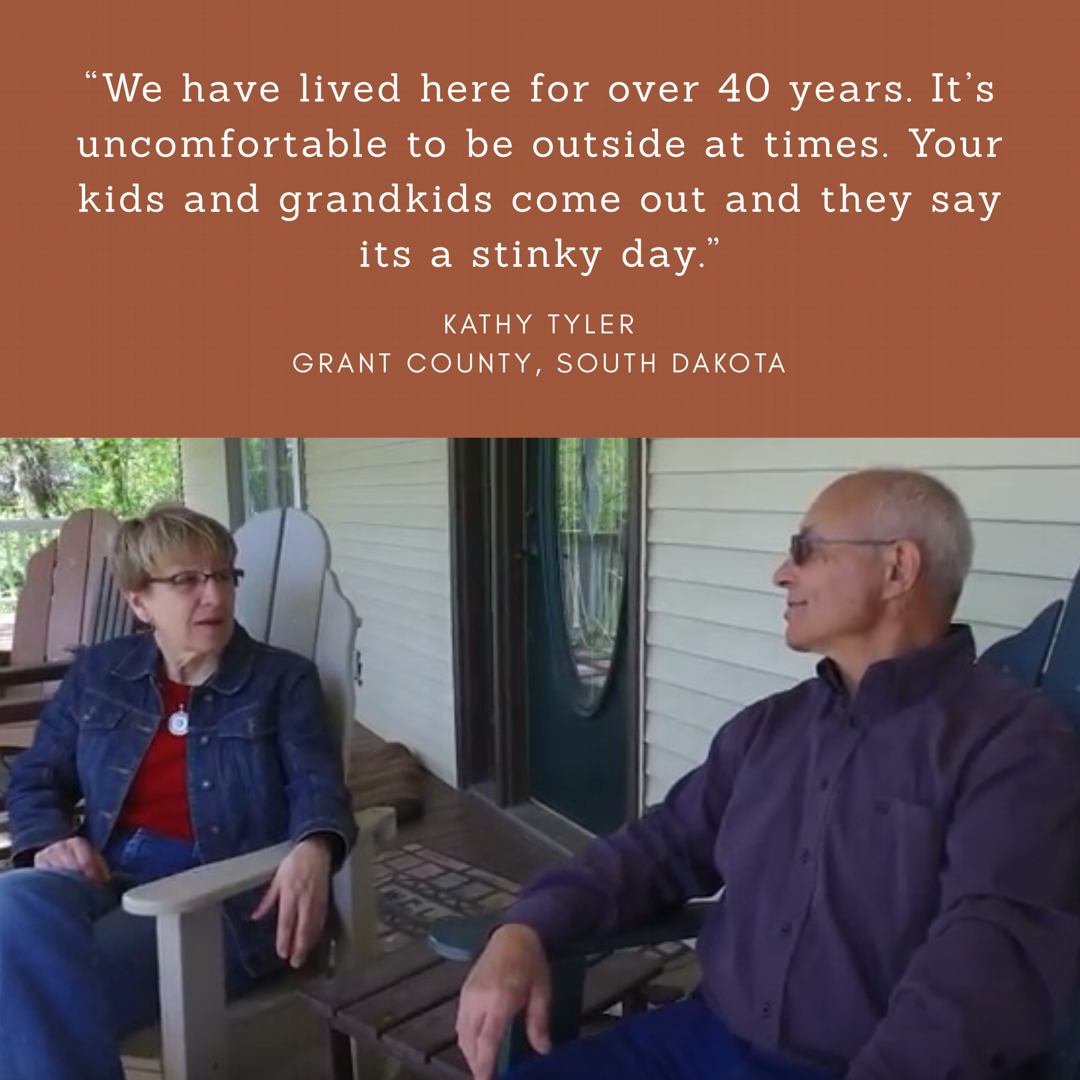 Kathy Tyler – South Dakota
Kathy Tyler and her husband Tim have spent the past four decades building their dream life in the countryside of Grant County, South Dakota. Both grew up on farms in the area and wanted their growing family to experience a similar rural way of life and spend their years living the kind of peaceful and healthy way South Dakota offers. That plan was dealt a setback along the way by industrial agriculture, but Kathy and Tim are working to keep their dream alive and make a difference in their community and their state.
After marrying in 1973, the Tylers moved to the small town of Millbank. They purchased a 9-acre piece of land and remodeled their homestead, originally built in 1889, while raising their two daughters. Their home wasn't the only thing that changed with the times. The Tylers also witnessed the landscape of South Dakota changing for more than 40 years. Large dairy production facilities have come to the area over the past decades, moving into neighborhoods and changing the quality of life in Grant County.
These days, Grant County is known as a dairy county. Home to 5 mega-dairies housing at least 5,000 cows each, Kathy says that local residents are no strangers to concentrated animal feeding operations (CAFOs), also known as factory farms.
We are in the middle of farming country. We have some small dairies about a mile away from our property. We also purchased another 200 acres and rented that out to organic farmers. We have another piece of property that we rent to a small CAFO operator. Family owned is not a problem nor is anyone who is a good neighbor.
However, five years ago the Tyler's learned a new neighbor would be moving into town — and they were unlike any that Grant County has seen before. Kathy remembers the moment their lives changed.
In 2012, my husband had gone out to dinner when one of the neighbors told him that we were getting a pig farm in our neighborhood.
The Tylers learned that Pipestone, one of the nation's largest hog producers, had selected Grant County to set up a 6,500-head hog operation – and it would be just half-a-mile away from their property. Since that time, Pipestone has proven to be anything but good neighbors. When the hog CAFO came in, so did the community problems associated with it.
We look out the window and we see the facility. We have spent thousands of dollars fighting this. They have 6,500 hogs half a mile away from my house. They have been very difficult to deal with.
The Tylers started fighting Pipestone during the permitting process. Despite a huge amount of testimony against the operation, the Grant County Planning & Zoning Board approved the permit application. For the next two years. Kathy and a neighbor continued the fight with the Zoning Board concerning the smell.
Pipestone was supposed to install and maintain the most effective bio-filters on all barns according to the minutes of the permit hearing. Findings of Fact changed 'maintain the most effective' to the 'most cost effective'—quite a difference. The barns stink, and the Zoning Board refuses to listen.
And while the negative impacts of the Pipestone operation are problems for everyone, Kathy says their opposition to the hog CAFO is not always appreciated.
We've been accused of being anti-ag because of our 'pig fight.' That's not it all. I wish the average person would realize the effects facilities like this have on the quality of your life. Everything from air, water and right to enjoying your property — and whether its smell or whether its polluted air or excessive road wear.
The hog operation produces millions of gallons of manure slurry each year. To transfer it to neighboring fields, a pipe system was installed — and those pipes run through ditches and under approaches (ex. driveways) in Grant County. This was made possible by the County, which gave Pipestone right-of-way permission to transport the massive amount of hog waste in the way they deemed best. In the end, this meant the corporate owners of mega-hog operation were given a free-hand to dig up any approaches they want. And they can do this without consulting the landowners.
Community members like the Tylers were outraged. After many visits with the County Commissioners resulted in no change in local policy to protect landowner property rights, the Tylers sued Grant County.
That hearing will be held in July.
Living a half-a-mile away from a 6,500-hog operation has changed the Tylers' lives and has upset the lifestyle they planned for and earned.
We have lived here for over 40 years. It's very uncomfortable to be outside at times. I do a lot of horseback riding, and you get to a point that you don't go outside because you're going to get 'stunk out'. You can't leave your windows open. Your kids and grandkids come out and they say it's a 'stinky day'.
And while Pipestone came into Grant County with the promise of economic development and jobs, the area has not seen any change.
They buy nothing locally. The contractor and the owners came from out of state. They do offer jobs, but I see huge employee turnover. Our County doesn't need jobs; we need workers. There is no economic good from this for our County.
Today, Kathy Tyler has become the voice of experience on a subject she never wanted to know about. What's the first thing she would say to someone in a rural community these days?  Stay informed and support family farms.
You need to become aware of what's happening in your community. Talk to your County Commissioners. Pay attention to public notices. Everyone who has criticized us for fighting the pig farm — not one of them has it in their backyard. It's nothing to do with being anti-agriculture. Corporations deal with money. Family farms deal with family.
For the Tylers and other residents in Grant County, the fight continues.